9/11 monument unveiled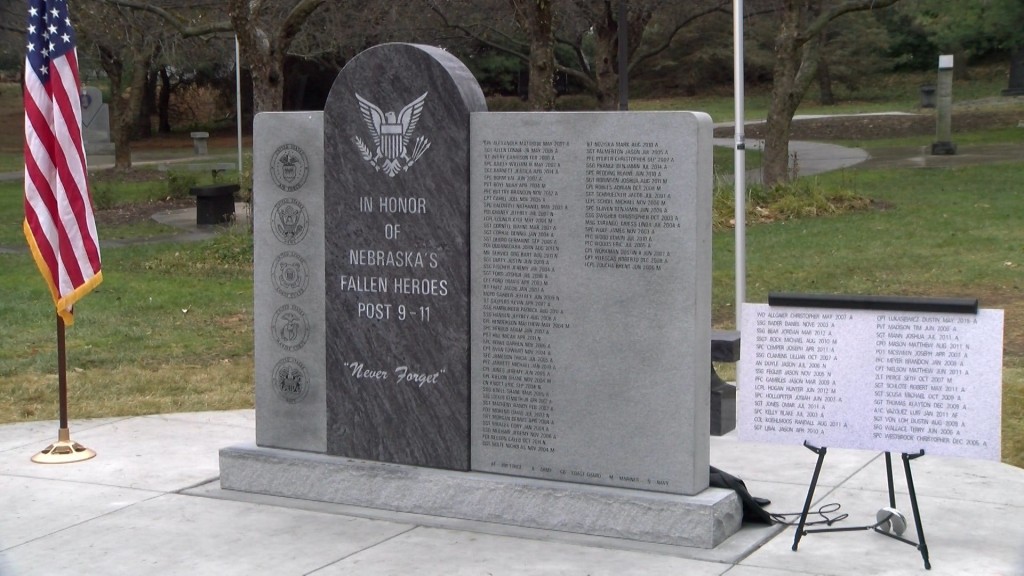 Veterans, their families and active service members were at Antelope Park Saturday for a dedication that was years in the making.

In the spirit of Veterans Day, Gold Star mothers unveiled the 9/11 monument honoring Nebraskans killed in service since September 11th, 2001.
Among the Gold Star mothers was Joyce Peck. Her son, Staff Sergeant Patrick Hamburger, was killed in Afghanistan in 2011.

"Our greatest fear, our children will be forgotten," Peck said. "They aren't going to be forgotten. Their names are carved in stone and will be here long after we're gone and this is just what we wanted."

Peck and fellow Gold Star mother Maria Medrano–Nehls said the 4 1/2 years of work to get here was worth it.

"It started out with trying to find a spot to put it in first," Medrano-Nehls said. "Then was the fundraising, which took us about a year and a half, to raise $22,000 to pay for the monument and the benches. And then we raised a little extra so that any additional names could be added on without any other expenses."

Former Nebraska Senator Bob Kerrey, who lost one of his legs while serving in Vietnam, spoke at the ceremony.
Kerrey said it's important to remember those who never had the chance to become veterans.

"They never became civilians again because they died," Kerrey said. "It makes me uncomfortable to see those young faces and know they never became civilians again, they never became veterans. They never had someone say to them 'thank you for your service.'"

Sixty-three names have been displayed so far, and the names on the smaller board will be added after verification with their families.