A group of young Nebraskans anticipate World Youth Day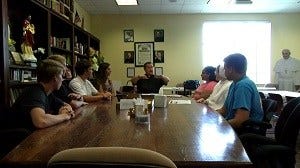 Posted by: Marlenia Thornton
mthornton@klkntv.com
A group of young Nebraskans are about to embark on journey of a lifetime.
They'll be among the millions traveling to Europe for World Youth Day.
It starts July 25 and ends on the 31st.
World Youth Day is an opportunity for young people from all over to meet the pope.
Every three years, it's celebrated in a different country and this year it's in Poland.
"I'm very excited because I'll get to see the pope and I get to go to Europe and experience the polish culture," World Youth Day Participant Mackenzy Navartil said.
More than 100 young people and chaperones among various parishes from southern Nebraska are making the trip.
Two parishes will be heading to Rome next Tuesday to start the pilgrimage.
While abroad, they'll be participating in various historical and cultural activities like staying with a host family.
It's an experience Father Kenneth Borowiak said is good for their personal development.
"Just to be able to live with a host family in a foreign country gives I think our young people a broader perspective and a deeper insight the lives and cultures of other people," Father Kenneth Borowiak of St. Michael Catholic Church said.
They will be overseas for about a month.
The youth say they're not only hoping to build new relationships, but strengthen their faith.
"I've been looking forward to for a long time just for this whole experience of this pilgrimage and being able to grow and be able to do that with great friends," World Youth Day Participant Scott Nemec said.