A Local Miss Amazing is Crowned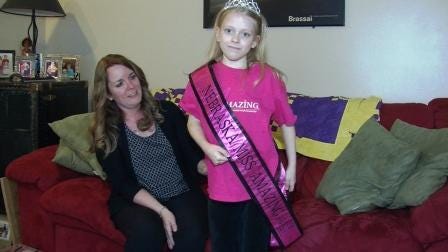 posted by: Laurann Robinson
Move over Miss America… there's a new pageant in town. It's called Miss Amazing. This pageant is similar to contests like the Miss America pageant, except this one has one special ingredient, each of the young women competing has some sort of a disability.
"I like going on stage and walking out with the escort," said Lily Lautenschlager. She looks like your average 11 year old girl, but she's a lot more than what meets the eye. She has a rare disease called klippel– trenaunay syndrome, or KT for short, which at times limits her to a wheelchair. "KT is a lymphatic malformation, and you normally get it in your limbs, so your arms or your legs, and i have mine in my legs and it makes it harder for me to walk, run, do a lot of physical activity. I also deal with a lot of pain normally, but I've learned to ignore it."
The Miss Amazing pageant was started 8 years ago by a 13 year old girl in Omaha who just wanted to build a good community service project. The now 21 year old has expanded her small dream into nationwide business with pageants held in 30 states.
Founder and CEO, Jordan Somer says the project's whole purpose is to help girls with disabilities build self–confidence. "That makes me so happy that all the girls are enjoying it. Because that's always going to be our number one priority, that this pageant is something that's beneficial for them."
Lily has won the "Queen" title for her age group in Nebraska and is now preparing for her trip to California in July.
Her mother says she see's what a difference the Miss Amazing pageant has made in her daughter's life. "I'm very proud of her because she's had a rough year and so this gives her something to look forward to and she enjoys sharing about the disability that she has and so she's been able to talk to other people about it. And she just shines. So, I'm very proud."
Lily will be having a fundraiser tomorrow evening from 5-8 p.m. at the Raising Cane's restaurant on 58th and Old Cheney to help raise money for the California trip. If you mention the fundraiser when you pay, 20% of the funds goes towards her cause.