A look at the Pinnacle Bank Arena from the inside out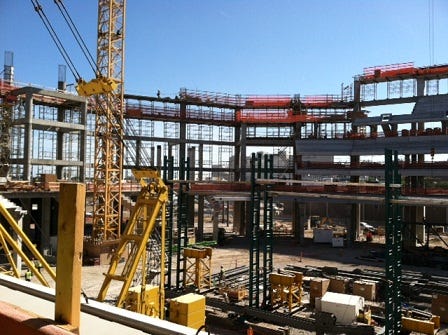 Posted By: Kayla Bremer
kbremer@klkntv.com
The arena is now about half done.
The Pinnacle Bank Arena in the West Haymarket has been changing daily since construction began. With just a little over a year left, the arena and surrounding projects are really starting to come together.
It was a big week for the arena. The roof is now starting to take shape. It's the future home for Nebraska basketball and public entertainment. Construction crews have made huge progress thanks to a mild winter and dry summer. The $150 million dollar project is expected to be completed by September of 2013.
"This is going to be one of the largest projects ever in the city of Lincoln. We're going to be on time and we are on time right now with our schedule and we are on budget…we are not going to go over budget on this project," says Bob Caldwell with Hampton Enterprises.
The future ticket office, main concourse and premium level suites all around the arena can now be seen.
A four–sided high definition scoreboard will hang in the center, which will be the first in the big 10.
"So once again we're standing on the main concourse. Directly above us is premium level where the suites will be and the lowest boxes, over in that corner and above that is the split upper concourse," says John Hinshaw with Mortenson Construction.
The split upper level concourse allows people to walk down to their seats rather than up several rows of steep stairs.
Another special feature of the arena is all the local involvement in the building process.
Hampton and Mortensen Construction say nearly 100 percent of subcontractors are using some type of local service, creating local jobs.
"But this is really a first in Lincoln event in that we have maximized local participation and I'd say we kept millions and millions of dollars in Lincoln because of it."
Nearly everything you see in the arena will have some type of local involvement. From the concrete to the seats and electrical work to the scoreboard a local teammate is behind it.
Contractors say they are excited for the completion of the arena. But it has been designed for possible expansion in the future including the opportunity for a hockey rink.