A Selfless cancer patient is fighting to help others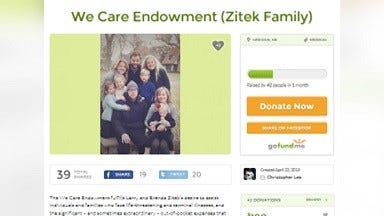 Posted by: Kelsey Murphy
A battle with stage four cancer has one Lincoln man fighting, but this fight is not for him, he wants to help others.
"Why me" are words that you will never hear him ask. Instead, Larry Zitek is wondering what he can do for others.
"I hope I inspire other people to accept it and keep fighting the fight," says Larry Zitek, cancer patient.
The fight against cancer. One year ago Larry got news he never imagined. Doctors diagnosed him with a Grade IV Glioblastoma Multiforme brain tumor, a highly aggressive cancer.
"I don't think you can express it with words, it was a very strange feeling. Okay that's what its like and I got through it," says Zitek.
Larry says he is able to get through it because of all the support given to him from people like his wife Brenda.
"It was a sucker punch, it took us to our knees for a few days, then you regain strength and say we are going to fight," says Brenda Zitek, Larry's wife.
And they did, but their fight is selfless. They want to give back to people who don't have the personal or financial resources they need to fight.
"They need companions, they don't have anyone driving them to and from radiation and so we just thought that nobody should have to go through this alone," says Brenda.
With Larry's help they won't have to. He created an endowment fund called We Care. It's a fundraising campaign. The money donated will be given to patients for medical-related or travel expenses.
With help, Larry wants to give people back precious moments with their loved ones.
Moments that Larry and Brenda cherish themselves.
So far, More than $60,000 has been raised, but Larry's goal is to raise $500,000. If you are interested in Larry's journey and the fund go to this link. http://www.gofundme.com/WeCareEndowment