Accident in Havelock pins woman under car, neighbor calls 911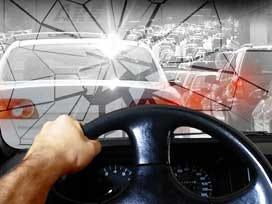 A frightening scene for a Havelock neighborhood Thursday night when a two car collision ended with one vehicle on its side and a woman in the hospital.
Carlos Hubbard saw it happen. "I heard the squealing and the screeching tires."
Along with squealing tires, witnesses say they heard glass breaking and the eerie sound of metal scraping the ground as one vehicle went sliding down the road at the intersection of 64th & Logan streets.
Hubbard lives in the area and was one of the first on scene. "I saw a truck turned over on its side so I ran down there and I called dispatch."
It was dispatch that talked him through what he would need to do next. Hubbard says he could see the driver of one vehicle was pinned beneath the car. He stayed with her while other residents in the area came to help. "Another guy was pulling the kids out of the car and they were really screaming and crying. They were really shaken up."
As shocking as the accident was for Hubbard and others who live in the area, he says it's one they've seen played out before. "This has been one of the worst but there are a lot of accidents on this corner."
The name of the woman involved in the accident has not been released. She was taken to the hospital we have no word on the extent of her injuries.