American History comes alive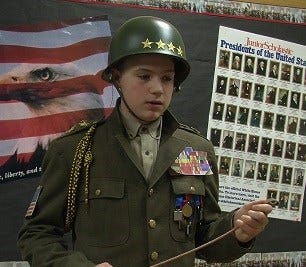 Posted By: Nolan Crane
History came to life for students at Lux Middle School. Here's tonight's "Excellence in Education" report.
Eighth grade students reenacted American history this week. Using props and dressing up in costumes, former President Franklin Roosevelt and General Patton were just some of the historical figures in attendance. Every student had to give a speech and make a poster highlighting the historical events in the person's life.
"When I first heard about this I thought I really wanted to do Amelia Earhart. She's always just fascinated me, but I never knew a lot about childhood and her actual life. I only knew about her famous flight around the world, so it was really nice to be able to dig into what her life was really like," says Quin Sleddens.
"I choose the wheelchair because he was paralyzed and that really tells the story of his struggles and how he was able to become president and still be paralyzed like this," says Turner Linafelter.
"I hope they learn a deep appreciation for our history," says Brad Irvine.
Earlier Thursday evening there was an open house where people in the community came and saw these people of prominence for themselves. This is the 12th year students have made history come alive at Lux Middle School.