Amtrak services disrupted in Nebraska due to flooding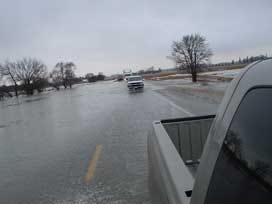 Flooding along the Missouri River in the Omaha area is forcing Amtrak to disrupt its California Zephyr passenger train, which travels between San Francisco and Chicago.
Amtrak says Tuesday that service will be temporarily suspended between Denver and Chicago for at least six days because of predicted flood crests and additional closures of Burlington Northern Santa Fe tracks in the Omaha area.
Amtrak says in a statement the suspension of service is effective with an eastbound train on Thursday from Emeryville, Calif., and a westbound train on Friday from Chicago.
The disruption is expected to continue through at least June 14. There will be no Amtrak service in Iowa, except in Fort Madison, Nebraska, and in Fort Morgan, Colo. Daily service will continue between Chicago and Galesburg, Ill.