Andrew Walker sentenced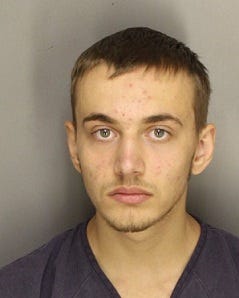 By: Cole Miller
cmiller@klkntv.com
A judge lays down the law when templers flare in a courtroom, as one man is sent to prison.
"Ladies and gentlemen, I will clear the courtroom if you don't remain quiet. One more outburst and everybody's gone," the judge ordered.
Emotions run high in district court Wednesday, where Andrew Walker was sentenced up to 6 years behind bars for attempted sexual assault of 12–year–old Serena Garrett.
Back in March, they were hanging out with some friends, including Ashley Jackson. Police reports say Walker, then 19–years–old, and Jackson had smoked methamphetamine, and Garrett was seen taking painkillers.
Walker then admitted he and Garrett had sexual contact sometime during the night. Garrett died the next morning, overdosing on those painkillers.
"I'd like to say I'm sorry for what happened. It was a tragic loss. I'd like to get help with outpatient treatment," Walker said in court.
That's when Garrett's grandfather hollered out, "You don't know what sorry is." He then had to be taken out of the courtroom. Walker's attorney made the following plea, also asking for probation.
"Kids make mistakes. Kids make major mistakes, in this case, a tragedy," Walker's attorney Kristy Egger-Brown said. "A tragedy for Serena and her family her family and its tragedy for my client and his family."
We may never know if that statement had an affect on the judge's decision, but Garrett's family says the punishment should've been worse.
"He sat there and grinned like a joker. He had no remorse on his face. He was not sorry," Garrett's grandmother Janice Young said.
Now her family only has their memories.
"We're the ones who have to spend birthdays at the grave. Memorial Day at the grave, Christmas at the grave, Thanksgiving at the grave. This is not the way it's supposed to be," Young said.
Walker was also sentenced to 20–48 months for felony child abuse. Ashley Jackson is a co–defendant in this case and is set to go to trial on a felony charge of child abuse.