Annual Veterans Walk of Recognition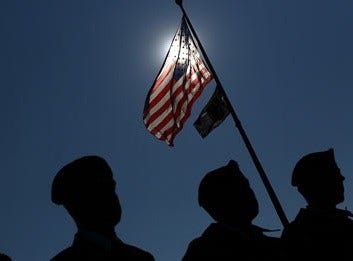 About three dozen people turned out to honor veterans at the annual Veterans Walk of Recognition.
Veterans shared when and where they served prior to the start of the 19th annual Walk of Recognition.
People gathered early Saturday morning to walk from Memorial Stadium to Veterans Memorial Gardens.
Despite the chilly weather both young and old showed up to support the walk.
Marine corp veteran Hansel Cabieles brought his two young children hoping to teach them some important lessons.

"It's important for him to know where we get a lot of our freedoms, a lot of the things that happened in our past that people still struggle with today," Cabieles said.
Even though about three dozen veterans, current service members, and their families showed up to participate, Cabieles didn't want to forget the veterans who couldn't be there.
"Even though we have a lot of people showing up there's still a lot of people that can't make this walk because of a disability either mental or physical and I think it's important that we take time to give thanks for their sacrifices," Cabieles said.
People honked and cheered to show their support as the group walked.
When the group arrived at the gardens they used it as a time of reflection and to share war stories.
Vietnam veteran Frank Delgado wants people to remember the sacrifices service members have made and continue to make protect our country.
"People need to remember who has served this country for their privileges and their rights," Delgado said.
Next year the group hopes to hold a parade and to have more people participate.