Arena Project Could Be Back On Ballot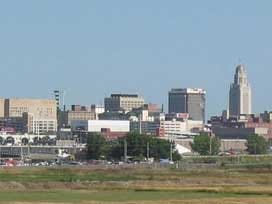 $260 million dollars and 1200 jobs.
That's what a Wisconsin consulting company says a Haymarket Arena could bring to Lincoln. The company presented its findings Tuesday.
The Mayor has touted the arena for quite sometime, and will ask the city council to put the $350 million dollar Arena on the May 11th ballot.
Even though many questions on the project still remain today we found out just how lucrative an arena could be.
This manufacturing company at 6th and L probably won't be directly affected by the Haymarket arena, but indirectly, owner Nick Cusik, says it has an impact on all Lincoln businesses.
"The health and vitality of the economy in Lincoln will in large part dictate how good of a place Lincoln is over the next 20 to 30 years," Cusik said.
Cusik was one of many business owners who sat and listened to the Wisconsin Sports Consulting Company present numbers on the economic impact a new Arena would have on the city.
Assuming UNL's mens and womens basketball teams would play in the arena.
The company says along with other developments including hotels, restaurants and other businesses, the project would generate $260 million dollars in revenue every year and create 1200 permanent jobs.
Not to mention nearly 8000 jobs during construction.
"We need to answer 3 questions. Why we need it, what it will look like and how we pay for it. Today the why is clear," Mayor Chris Beutler said.
The company says the 1600 seat arena would eventually create $3 million dollars in local taxes, $5 million in state taxes and attract 1.1 million people to Lincoln.
The Pershing center brings in about 650,000 people many are worried not acting at all could be detrimental to Lincoln's prosperity.
Again the city council will have to vote on whether the arena makes it on the May 11th ballot.
As far as how the city will pay for the arena, the Mayor would not comment Tuesday and will release his proposal for that this fall.
For more information on the economic impact the Haymarket Arena could have on Lincoln just log onto www.westhaymarketarena.org