Arrest made in UNL student assault case; victim's family relieved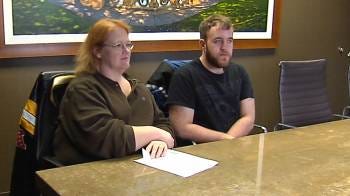 Posted by: Laura Wilson
lwilson@klkntv.com
Police have arrested one of the suspects they believe is responsible for attacking and robbing two UNL students, leaving one of them in critical condition.
21-year-old Stelson Curry was nabbed by authorities in Louisiana, and that's where he's still in custody.
Authorities say he's responsible for causing serious head trauma to one of those students, Patrick Pantoja, leaving him in critical condition.
"It's very tough. I get angry thinking of what they took and what they could have taken from me," said Patrick's mother, Carol Pantoja.
Patrick is still recovering in an Omaha hospital.
"Better, but still slow—very slow."
Surveillance footage, captured by the capitol's cameras, helped police initially develop Curry as a suspect.
"We were able to see several men on that video, one of those men was identified as Stelson Curry."
And then, police say a search of Curry's home turned up a big clue–clothing they say he'd worn that night.
"The Nebraska State Patrol crime lab later confirmed that blood evidence found on Stelson Curry's shoes matched that of the victim, Patrick Pantoja."
Curry's arrest is a big break in the case—and a big relief for the Pantoja family.
"Happy tears—just happy tears. I said, 'you made my day,'" Carol Pantoja recalled.
But the investigation isn't over yet. Police are still searching for two other suspects they believe are tied to the attack.
And as for Patrick, he's ready to return to the comfort of his own home. "That's the only real reason I want to get out of here is go home."
"[I'm] just happy to relax," he added.
Curry will remain in Louisiana until he can be extradited. Police say he's also wanted in another state.
As far his charges here go, he's facing first degree assault and robbery which are both Class 2 felonies.