Art class added to one Lincoln school curriculum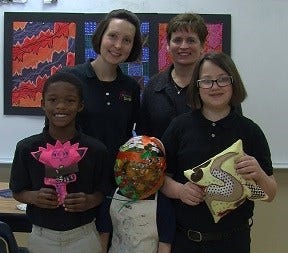 Posted By: Nolan Crane
Students at Don Sherrill Secondary Education Center haven't had art class in more than 27 years, until now! This is the first year in almost three decades students can show their artistic side. Here's Wednesday March 18ths "Excellence in Education" report.
At this school class sizes are small but the students love for art is huge. Their teacher Alysia Grummert teaches them how to draw, paint, use clay to make pottery, they make their own masks and they even use fabric to make stuffed animals and pillows. These students are happy art is now a class they can take when they go to school.
"Art class has been really great for me because ever since I was really little I really loved it. I really love to draw because it was really just a fun way to express myself," says Miya Bonesteel.
"My favorite project that I did in art was my monster because i got to decorate it and color it," says Trevonn Gray.
"It's really important for the students to know the significance of art and we learn the historical importance, we learn different movements, and we learn about different artist," says Alysia Grummert.
The students art work is even displayed outside the school. Every student used their hand print to make a flower for this planter box that will become a part of their summer garden.