Attorney General Peterson announces legislative package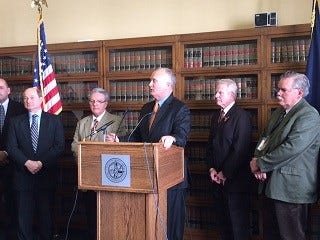 Posted By: Jenn Schanz
jschanz@klkntv.com
Attorney General Doug Peterson wants everyone to know two things that won't be tolerated in Nebraska; prostitution and pot.
Those are the focus of two bills he's backing.
"Basically they're taking, for the most part young ladies, and they're turning them into commodities. The penalties currently in our laws are not strong enough," Peterson says.
A human trafficking bill (LB294) would up those penalties.
It would allow assets of those involved to be taken by the state; the proceeds would go to a state fund for victims.
Also on Peterson's agenda? Cracking down on synthetic marijuana enforcement.
Like his predecessor, Jon Bruning, Peterson says Colorado's legalization of the drug has hurt Nebraska.
Bruning filed a lawsuit against Colorado back in December.
Now, Peterson wants to move possession of K2, which is synthetic marijuana, from an Infraction up to a Class IV Felony. It's outlined in another bill he's supporting, LB326.
He cited a study done by Northwestern and Harvard medical experts, that shows even recreational use can be harmful.
"From these scans you could see a marked difference on neurological impact on regions of the brain," Peterson says.
But with harsher penalties for drug possession, Nebraska's prison system, which is already well above capacity, could take an even bigger hit.
Peterson says that's a risk he's willing to take.
"We don't want to compromise public safety, just for the purposes of saving dollars that might be necessary in Corrections."