Update: Union Bank robbery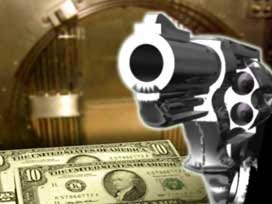 By: Cole Miller
cmiller@klkntv.com
Police say items from robbery were recovered.
Lincoln police say a bag of money and a handgun were recovered. A dye package had exploded in the bag and stained the money.
It's the third bank robbery in three weeks, and police say they might be all connected.
It happened just before 10 a.m. Monday, police were called to Union Bank near 20th and Highway 2. Police say a man entered the bank, demanding money. Minutes later, he fled on foot, possibly through nearby Peterson Park. A police dog searched the area, but came up empty.
"We're looking into the possibility that this is related to some of the other bank robberies we've had. In particular, the south 56th street bank robbery at US Bank," LPD Captain David Beggs.
That robbery happened June 23rd, and just last Monday, the Liberty First Credit Union near 27th and Superior was also robbed.
"There's a possibility all 3 are related…we're looking into that," says Capt. Beggs.
Police describe the suspect as a black male in his 20's. 5'8″ to 5'9″ in height with a slender build. Police say he was wearing a white cowboy and a red–hooded sweatshirt.
Just steps away from the Bank is a daycare. Lindsey Williams takes her daughter there, and has confidence police will find whoever did this.
"As a parent, it kind of concerns me, but I have faith in the law enforcement and I know that she's in a safe environment. It's a locked facility so the robber wouldn't be able to get in which is comforting to know," Williams said.
If you have any information call Crime Stoppers at 402-475-3600.