Barry leads Concordia women to top-10 win, Bulldog men fall at No. 1 Morningside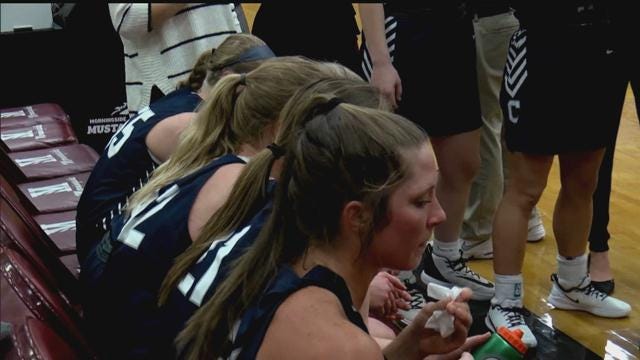 From: Concordia Athletics
In its first true road outing of the season, the top-ranked Concordia University women's basketball team received plenty of pushback from seventh-ranked Morningside. The Bulldogs jumped out to a 12-0 lead and exercised control most of the way while directed by Grace Barry. Concordia tagged the Mustangs with their second home loss in an 88-77 decision in Sioux City, Iowa, on Wednesday (Dec. 11).
The Bulldog men fell at No. 1 Morningside, 72-71, despite shooting 13-of-21 from behind the arc.
An 11-point margin qualifies as a nail-biter for 14th-year head coach Drew Olson's squad, which entered play averaging more than 100 points per game. Dating back to last season, the Bulldogs (10-0, 6-0 GPAC) have won 22-straight games.
"Morningside did some really nice things against us, but I'm just proud of how resilient we are," Olson said. "We didn't have our best game and our bench has had better days. We had some good toughness to withstand them and had some kids step up when we needed it. We were just tough enough and experienced enough to find the plays we needed to keep that lead."
Barry has become something to behold in her time wearing the navy and white. The Lincoln East High School product accomplished a rare feat on Wednesday by turning in a triple-double: 20 points, 10 assists and 10 steals. Whenever Morningside seemed poised to make a run, Barry crushed those hopes with her play on both ends. On more than one occasion, Barry picked off a Mustang in-bounds pass and finished with a layup.
Though Morningside struggled with Barry, it actually avoided many of the pitfalls that have devastated Concordia opponents this season. Morningside limited its turnovers to 22 and at times gave the Bulldogs some fits with its zone defense. Sydney Hupp (team high 16 points) and the Mustangs missed their chance to really make a move during a third quarter that saw the Bulldogs score only 14 points. Concordia held a lead of at least eight points the entire second half.
Not since the 63-62 overtime win over No. 2 Southeastern University (Fla.) had the starting lineup been stressed like this. Barry played 36 minutes while notching the triple-double. All-American Philly Lammers logged 33 minutes and put up 19 points and nine rebounds in another strong outing. The other three starters also scored in double figures: Mackenzie Koepke (15; 5-for-10 from 3-point range), Colby Duvel (13) and Riley Sibbel (11).
After a rough finish to last season, Morningside (8-3, 5-2 GPAC) has recovered nicely under head coach Jamie Sale. Hupp, Sierra Mitchell and Sophia Peppers are the standouts for a group with enough depth to give the Bulldogs a run for their money. Peppers added 15 points and Taylor Rodenburgh chipped in 14 points and 10 rebounds off the bench. The Mustangs owned a 42-35 rebound edge, but were slightly outshot, 47.8 to 46.2 percent, from the floor. Mitchell was held to eight points while mostly guarded by Sibbel.
More than anything on this night, Barry was too much. Said Olson, "She was fantastic. She controlled the pace of the game. She was a big playmaker. She created shots for herself, got others involved and came up with some really big steals when we needed it. She was definitely a big key to us winning."
The final GPAC game prior to Christmas/New Year's will take place Saturday when the Bulldogs will be in Yankton, S.D., for a 2 p.m. CT tipoff at Mount Marty (6-4, 2-4 GPAC). Concordia has won each of the last six meetings with the Lancers. The Bulldogs got a push last season in Yankton when they prevailed by a 66-55 final score.