Battling CRS: A local mom's story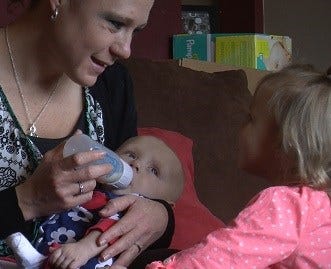 Posted By: Camila Orti
Joanie Hemmer says she had to make a choice no mother should ever have to make- whether or not to amputate her daughter's legs.
31-year-old Joanie Hemmer is the proud mom of two girls, 2-year-old Ellyna and 6-month-old Emberlyn Grace. Hemmer says the next couple of weeks will be rough- the time leading up to Emberlyn's leg amputation surgery.
"It's heart-wrenching, it's horrifying, it's something that I never ever thought I would have to do," Hemmer said.
Emberlyn was born with caudal regression syndrome, or CRS, a rare condition sometimes caused by diabetic mothers.
"She has no sacrum, she has no tail bone, no pelvic bone and partially missing part of her hip bones," Hemmer said.
Due to her underdeveloped spine, Emberlyn is paralyzed from the waist down, leading Hemmer to take the toughest doctors' advice yet.
"It needs to be done because she wants to be mobile and she can't because it's just dead weight," Hemmer said.
The leg amputation will be one of dozens of surgeries to come, Hemmer says, which is part of the reason why she can't work.
"She's been in the hospital and doctors' offices more than she's been home," Hemmer said.
Despite her condition, Hemmer says Emberlyn continues to giggle through each day. It's something she hopes to see in her daughter years down the road, with or without legs.
"I'm not gonna raise her any different than I would any other child," Hemmer said, "there's gonna be no such thing as 'I can't do this,' because you can."
For more information on CRS, click here.
The Hemmer family has a GoFundMe page set up to help with daily expenses. To donate, click here.