Beaver Crossing holds meeting on town's future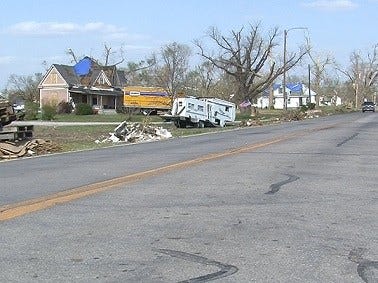 By: Bill Schammert
bschammert@klkntv.com
As you make your way down the main road into Beaver Crossing, something resembling a town is again beginning to take shape.
The latest report shows 227 homes in and around the city with some sort of damage, 16 of those destroyed, so far. Last Sunday's EF-3 tornado left a path of destruction right through the rural Nebraska town about 30 miles west of Lincoln, but now it must figure out how to rebuild.
"It's just going to take time," town resident, James Ettwein, said. "There's a little bit here, a little bit there and slowly it's all getting widdled away."
Monday night, the village board held its first meeting since the destruction. It was standing room only inside the community center as hundreds wanted to hear the latest update.
Many of the homes will be demolished in the coming days, volunteers will continue to work and haul debris out of town, behavioral health representatives will be on hand 10 hours a day for the rest of the week, and on Tuesday, the National Guard will finally pack its bags and head out of town.
With 95-percent of power now restored, the town's curfew has been lifted. An official with Nebraska's Emergency Management Administration says FEMA will come to town to do its survey this week.
"Lot of times they can help with those low interest loans and work with businesses to make sure the infrastructure doesn't go away," Earl Imler with NEMA said. "Many times, when you lose businesses, that's what really takes a toll on these communities."
Imler said disaster relief money to help rebuild city infrastructure and provide businesses with those loans likely won't come in for at least two-to-four weeks. According to the village board, private donations designated for the community's people will be divided after applications for assistance have been verified. The first checks most likely won't go out until the end of June.
In the meantime, relief coordinators say they need skid-steers and small dump trailers, as well as operators to handle the equipment. Before they can accept more volunteers, they need the equipment to facilitate disaster recovery. Besides that, they say they could use shovels and rakes.
And for many of the people of this town, the hope is that most choose to remake Beaver Crossing whole once again.
"I want them to stay and rebuild," Becky Ettwein said.