Big Ten Announces 2012 All-Conference Teams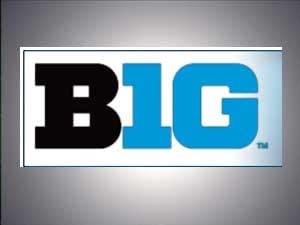 Posted by: Sports
The Big Ten on Monday announced the 2012 All-Big Ten teams as well as 10 postseason individual award winners, as voted by the conference's coaches and a select media panel. This season marks the second year of the Big Ten's postseason awards process that honors teams, coaches and student-athletes. The Big Ten's biggest individual honors each bear the names of one or two former standouts. The Dungy-Thompson Humanitarian and Ford-Kinnick Leadership awards were announced last week, 10 individual trophies were announced Monday, and the remaining five trophy winners will be unveiled on Tuesday.
Michigan, Ohio State, Penn State and Wisconsin each claim two individual trophies, while one standout each from Iowa, Nebraska and Northwestern earned an award.
Michigan's Taylor Lewan was named the Rimington-Pace Offensive Lineman of the Year, while the Wolverines' Will Hagerup was tabbed the Eddleman-Fields Punter of the Year. Ohio State's Braxton Miller earns the Griese-Brees Quarterback of the Year honor, while teammate John Simon was named the Smith-Brown Defensive Lineman of the Year. Penn State's Allen Robinson claims the Richter-Howard Receiver of the Year trophy, while teammate Michael Mauti earns the Butkus-Fitzgerald Linebacker of the Year award. Wisconsin's Montee Ball was named the Ameche-Dayne Running Back of the Year for the second consecutive season, while the Badgers' Jacob Pedersen earns the Kwalick-Clark Tight End of the Year honor. Rounding out the defensive honors, Iowa's Micah Hyde was named the Tatum-Woodson Defensive Back of the Year. Nebraska's Brett Maher and Northwestern's Jeff Budzien shared the Bakken-Andersen Kicker of the Year award, the second consecutive honor for Maher.
Hyde, Lewan, Simon, Mauti, Robinson and Ball were each named first-team selections to the coaches' and media's All-Big Ten teams. Ball is a first-team selection on both lists for the second straight season, while Simon, Michigan State's Johnny Adams and Wisconsin's Chris Borland are repeat picks on the coaches' first team. Maher, Purdue's Kawann Short and Wisconsin's Mike Taylor all appear on the media's first team for the second year in a row.
The Big Ten also recognized 12 Sportsmanship Award honorees. The student-athletes chosen are individuals who have distinguished themselves through sportsmanship and ethical behavior. These student-athletes must also be in good academic standing and have demonstrated good citizenship outside of the sports-competition setting.