Big Ten Conference Announces New York City Office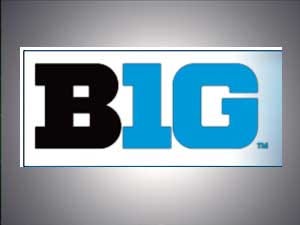 Posted By: Sports
Big Ten Conference Announces New York City Office
East Coast office space provides expanded coverage and service
for 14 Big Ten institutions that span from the Colorado border to the Atlantic Ocean
Rosemont, Ill. — The Big Ten Conference announced it will open a second office in New York City to help serve the needs of its 14 member institutions. The Big Ten New York City office will be located at 900 Third Avenue and will be fully staffed and operational by June 1.
The office is located in Midtown Manhattan, with easy access to airports and other transportation, and will feature both office and meeting space. Three Big Ten staff members working in branding, championships, communications and compliance will be based in the New York City office to provide expanded coverage and service, while Big Ten Commissioner James E. Delany and senior staff will maintain a presence in both the New York City office and the conference's current headquarters located in Rosemont, Ill. In addition, other conference and institutional administrators will utilize the space as necessary when conducting business on the East Coast. The Big Ten and its member institutions will also have access to satellite office space in Washington, D.C.
"We are excited to be on the East Coast and to open a second office in New York City," Delany said. "With the addition of Maryland and Rutgers, we have become a conference with a significant presence in two regions of the country. While the space will be utilized full time by Big Ten staff, it will also be open to our member institutions conducting business in the city. New York is one of the world's greatest cities, and this provides an opportunity for connecting with our many conference partners, media and alumni in that area."
"As we look forward to officially joining the Big Ten, we're thrilled that the conference has opened offices on the East Coast to strengthen the bond with our institution," Rutgers University President Robert L. Barchi said. "Rutgers University has a significant presence in New York City with alumni, students and business partners, and we're happy that the Big Ten and its member institutions will be joining us in the metropolitan area."
"The Big Ten has been a terrific partner as we have prepared to join the conference. The establishment of offices on the East Coast is just another example of their ongoing outreach efforts," University of Maryland President Wallace D. Loh said. "The University of Maryland draws students from across the country and the world, but the region between College Park and New York City is especially important to us. We're glad that the Big Ten will have an expanded presence on the East Coast."
"Indiana University is thrilled that the Big Ten has given member institutions office space in New York City," Indiana University Director of Athletics Fred Glass said. "It is a strong display of commitment to our new members and a substantial investment in the eastern part of the conference's expanded footprint. New York has one of the largest concentrations of IU alumni in the country, and it is terrific that we now have a home base of operations in the nation's largest city."
"The Big Ten now stretches from the Atlantic Ocean across the Missouri River, and establishing a base of operations in New York City for all 14 institutions is a natural next step," Northwestern University Director of Athletics Jim Phillips said. "As a university with a large alumni population in New York, and one that recruits students, faculty and student-athletes from throughout the Northeast, we're very much looking forward to what will be a home-away-from-home in Manhattan."
The Big Ten has made a series of announcements highlighting the conference's increased presence on the East Coast, beginning with the addition of Maryland and Rutgers as future conference members in November 2012. Last June, the Big Ten announced the acceptance of Johns Hopkins University as the conference's first sport affiliate member for men's lacrosse and also announced an agreement to take part in the New Era Pinstripe Bowl, sending conference football teams to play at Yankee Stadium on an annual basis.
Maryland and Rutgers are set to officially join the Big Ten on July 1, 2014, giving the conference more than 520,000 total students and 5.7 million living alumni. The broad-based athletic programs of the 14 institutions will feature almost 9,500 student-athletes on 350 teams in 43 different sports. With the debut of men's and women's lacrosse during the 2014-15 academic year, the Big Ten will sponsor 28 official sports. Maryland and Rutgers are already members of the Committee on Institutional Cooperation, an academic consortium of Big Ten universities and the University of Chicago that is a model for effective and voluntary collaboration among top research universities. In 2012, Big Ten institutions produced over $9.5 billion in research expenditures.
Just 82 days until Maryland and Rutgers officially join the Big Ten