Bill proposes driver's licenses for children of illegal immigrants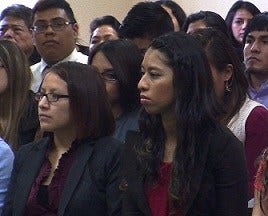 Posted by: Laura Wilson
lwilson@klkntv.com
Nebraska is the only state in the country that does not allow DACA youth to obtain a driver's license.
A new bill, presented before the Transportation committee Tuesday afternoon, could change that.
"I took French for seven years. I was also the president of the art club and I was a member of Key Club—which is a local club we had at Central High School," said Omaha resident Fatima Flores-Lagunas.
"I've written different op-ed pieces for different media outlets. We were able to publish some of the stories of immigrant youth, and it is now part of the Library of Congress. I was extremely proud to be able to do that," Lincoln resident Juan Gallegos told us.
These young immigrants are contributing members of society. Under Nebraska law, though, they're not allowed to obtain a driver's license.
"It's beyond frustrating," Fatima-Flores said. "It's suffocating because we are proactive members of the community. We want to give back to this great nation."
The DACA program temporarily defers deportations, and allows its members to continue their education and work in the U.S.
It does not grant its members citizenship, but Senator Jeremy Nordquist's proposed bill says it should grant them a license.
"A number of these kids came here when they were one and two and they're teenagers now," Senator Nordquist explained at the Tuesday hearing.
"Some of them are in college. They are as much Nebraskan as I am. They know no other place as home," he added.
More than 25 people spoke in favor of the bill at a Transportation Committee hearing Tuesday, including DACA members—who said Nebraska's conservative laws are putting young immigrants' dreams on hold.
"We have great potential. We're always at the wave of somebody else's pen. It's the president, the governor, or it's somebody else. I want to be able to have a little control over my life," said Gallegos.
The bill was met with opposition by several people who argued illegal aliens are not entitled to the same rights as u.s. citizens, regardless of a deferred status.
"I am against granting privileges to those in the U.S. illegally at the expense of citizens who are in need of similar opportunities," Susan Gumm said during the hearing.
"Healthcare costs, and all that, are going up because of illegal aliens and we're paying the price for it right now," said Nebraska resident Marty Brown.
Because Nebraska is the only state that does not allow these young adults to get a driver's license, some are saying it's time to get with the rest of nation.
First, the bill will have to make it out of committee.