Bill would allow teachers to use force against students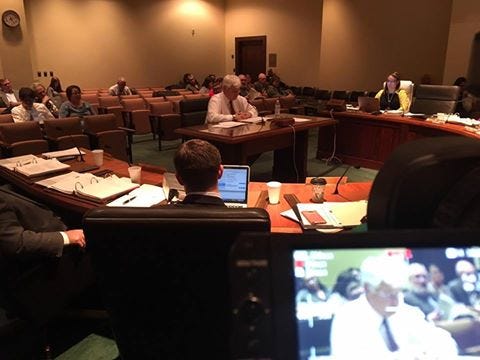 Posted By: Nicole Cousins
ncousins@klkntv.com
A new bill could allow educators to use physical force or restraint against violent students.
Senator Mike Groene proposed the bill in front of the Education Committee Tuesday.
He said this legislation will bring control back to Nebraska classrooms.
"This is restraint, not corporal punishment," he said.
In addition to allowing the use of force, the bill would protect educators from getting sued if force is used. Furthermore, it would be the teacher's decision if and when the student is allowed back in class. After some revisions, the bill's language was changed to comply with disability protection laws.
The Nebraska State Education Association (NSEA) spoke out in favor of the bill – citing a recent survey of more than 7,000 Nebraska teachers who largely said they feel like their hands are tied when students lash out.
The organization said it doesn't want to keep students from learning, but it shared one teacher's traumatic testimony. NSEA said her account shows all teachers need to be protected:
"I was assaulted by a student my first year in my district," NSEA's Jay Sears, who read the teacher's testimony said. "I was taken from my classroom to an emergency room. I missed a week of work. It never occurred to me that that student would be placed back in my classroom, but upon my return that student was to return to my room.
"This is from a 4th grade teacher," he concluded.
But those in opposition say this is a battle with increased mental illness in students – not simply an issue of violence in schools.
To them, the legislation is bad public policy.
"The teacher that's having to cross her arms while a child assaults her — I guarantee that is a special needs child, that is a child that needs mental health," Karen Haase, an attorney who represents dozens of public school district across the state, said.
Another opponent, Lynne Redding, has a disability. She said she was restrained in school, and that's not the answer.
"There's a line that needs to be drawn to protect a child," Redding said. "Even one engaging in a bad behavior."
Still, supporters say this legislation is unfortunate, but necessary.
Senator Groene emphasized this bill does not allow corporal punishment. It's just meant to allow teachers to use restraint on students who are being violent and threatening the classroom.
As a reference, corporal punishment was banned in Nebraska schools in 1988.
However, 19 states still allow the punishment in schools, including Wyoming, Colorado, Kansas and Missouri.
To read the bill in its entirety, click here.