Bill would give courts power over visitation, keep families connected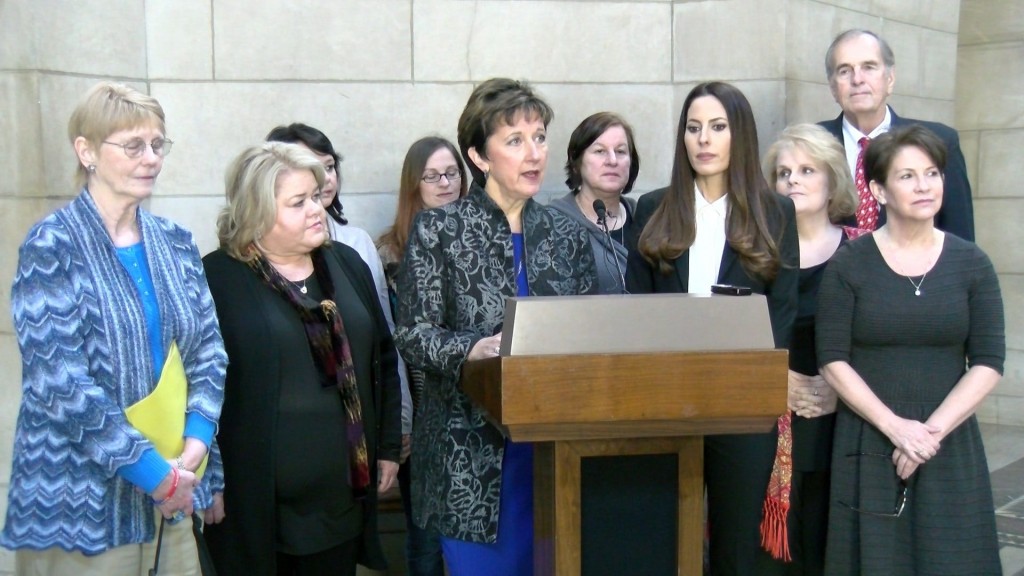 Posted By: Brent BonFleur
A bill that would help families stay connected to aging or sick loved ones has made its way to Nebraska.
LB122, proposed by Senator Patty Pansing Brooks of Lincoln, would allow a judge to prevent caregivers from arbitrarily withholding visitation rights from family members wanting to see their loved ones.
"The thought of a someone in a position of power denying access to one of our own family members would be nearly unimaginable to most of us," Pansing Brooks said.
But what may be unimaginable for some was the nightmarish reality for Kerri Kasem, who drafted the bill after being denied access to her father.
Her father, Casey Kasem, was a well-known actor and creator of the "Top 40" radio series.
He was diagnosed with dementia later in life.
His wife at the time – and legal guardian – cut Kerri and her siblings off from their father.
Kerri decided to fight.
"We went to court. And even though my dad told the court-appointed attorney and the court-appointed doctor – emphatically – 'I want to see my children,' the judge could not rule on visitation," Kasem said.
"What she said was, 'Casey Kasem wants to see his kids. Now go out in the hallway and figure it out.'"
After months of court battles – and $350,000 in legal fees – Kasem won her case, and was able to see her father before he died.
"He loved us, we talked everyday," she said.
"And to have to fight to see your dad – when he needs you most – was the worst thing I have ever experienced in my life – and the reason I fight so hard for this bill to be in all 50 states."
She now runs Kasem Cares, a foundation that fights elder abuse and isolation.
She says that's an experience far too familiar for many.
Kelly Rooney, daughter of iconic actor Mickey Rooney, watched her father testify before Congress on his own experience with abuse and isolation.
"My story is very similar to the Kasem story," Rooney said.
Rooney was abused by his caretaker who, while not related, had power-of-attorney over him, leaving Kelly and her siblings powerless.
"You feel scared," the actor said in a Congressional hearing in 2011.
"Even when I tried to speak I was told to shut up and be quiet, you don't know what you're talking about."
Kelly Rooney now works alongside Kerri Kasem, pushing legislation that she hopes will spare others the pain she endured.
While the Rooney and Kasem cases may have garnered national attention, experts say elder abuse is on the rise nationwide.
An estimated 1-in-3 seniors will develop Alzheimer's or other dementia symptoms, with someone being diagnosed every 66 seconds in the United States.
And some are taking advantage of those who are sick – with one of the fastest growing forms of elder abuse being financial exploitation.
Kathleen Brawn watched as her father was left helpless with dementia.
She says his care-takers saw an opportunity to cash in on her father's poor health, convincing him to sign over power-of-attorney.
"Isolate an individual. Medicate the individual. Steal their estate. That's the formula," Brawn said.
She claims her father's caretaker married him three months before he died, and, with the help of a lawyer, absconded with more than $63 million he had received after selling his publishing company.
Brawn says that was nothing compared to the pain and anger she felt when she was denied access to her father's hospital room until the final moments of his life.
"I had to sit there for 20 minutes – knowing my dad was going to be dead in 20 minutes – and there was not a thing I could do about it," she said.
"I asked them, 'Please give him his Last Rites, he's Catholic.'"
'No, no,' they told her. "'It'll take too long for the priest to get here."
Studies estimate elderly Americans lose as much as $40 billion annually to financial exploitation, with family members and professional caregivers named as the culprit in 55% percent of the cases.
But as Lincoln resident Genenne Didier found out, money isn't always the motive.
Close to her uncle since childhood, she was horrified to learn that he was being abused.
"When Mr. Kasem was being removed from a hospital in Washington state, that was the same thing that was going on two miles down the road," Didier said.
With help from family, Didier was able to hire an attorney to wrestle guardianship of her uncle back from his caretaker.
By then, it was almost too late, as he had been starved and denied adequate water for months, she says.
"The doctor, the ER doctor, during his observations, he watched as I moistened my uncle's lips with a little sponge," Didier recalled in front of state senators.
"But when I went to put it on my uncle's lips he sucked it so hard – that's how much hydration he wanted."
Didier now joins the other women as an advocate against elder abuse – and as a proponent of LB122.
All of them share the hope that, if the bill passes, it will spare others the pain they endured for so many years.
"I urge you, and I pray for LB122 to go forward," Kelly Rooney said.
"So that this common sense bill would be in place so that others wouldn't have to go through what we've gone through."
If you think you or someone you know is a victim of elder abuse, a link to the NDHHS Adult Protective Services page can be found here: http://bit.ly/2kXxqj5.