Blind Lincoln Man Gets Wish Granted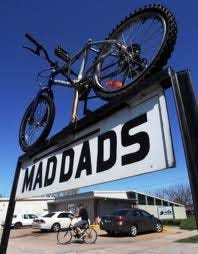 By: Cole Miller
CMiller@klkntv.com
Brian Livengood is living proof that dreams do come true. He had a simple wish, he wanted a bicycle. He used to be able to ride them. "I did when I was little and then I had cancer and then I couldn't ride a 2–wheeler," Livengood says.
But that cancer, a brain tumor, left him almost completely blind and then, Mad Dads heard about Brian's story…so they invited him and his family to Lincoln from south Sioux city to make his wish a reality. Don Coleman with Mad Dads says, "it's satisfying a dream…a wish, and that's basically what we do. But this is really something that a legally blind person wanted and it was his dream to have and wish to have a 3–wheeled bicycle."
Over the years, Mad Dads has given away more than 7–thousand bikes…"I'm very happy that he got his bike," Coleman says.
It may have taken awhile to build, but that's just fine with them…"when it comes to something like this, it's all worth it. It's all worth it. And we'll do it again next week!"
We asked Brian what he's most looking forward to when he gets his bike home and he said, just riding around the neighborhood.