Blood pressure drug recall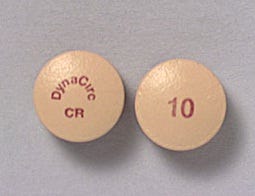 A global pharmaceutical company is recalling nearly 400,000 bottles of a blood pressure drug that was packaged in Nebraska.
GlaxoSmithKline initiated a recall of the drug DynaCirc CR, which was made at the Novartis plant east of Lincoln. Novartis manufactured the generic drug on a contract basis at the Lincoln site. GlaxoSmithKline said in a statement it has received no complaints about contamination or tablet mix-ups. But the company cited a Food and Drug Administration report that found "compliance concerns'' with the plant's packaging process.
The GlaxoSmithKline action is the second recall of drugs at the site this year. Novartis recalled several of its over-the-counter medicines in January, including Excedrin, Bufferin, GasX and NoDoz.