Bo Pelini notes and quotes from Big 12 Media Days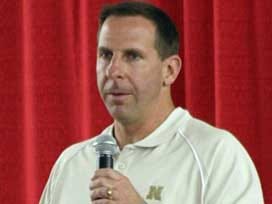 Some Husker notes and quotes today from Bo Pelini, who's entering his 3rd year as head coach. The Husker Head Coach spoke to the media today in Dallas, Texas at the Big 12 Media Days.
He says "In your 3rd year together you really have a chance to make a big jump." He also said that senior quarterback Zac Lee is 100 percent following his surgery, but that he needs the quarterback position to step up this season, and that includes sophomore Cody Green and freshman Taylor Martinez, who will both be battling Lee for the starting job. Pelini says that this is the best offensive line he's ever had .
Coach Pelini insists he and his team are focused solely on the upcoming season in the Big 12 and not even thinking about their jump to the Big Ten next season. They're certainly going to be reminded about it when they go on the road.
Pelini refuses to use the notion of going out on top as a rallying cry. He says football is emotional enough. The Cornhuskers came within a second of winning the Big 12 championship last season. They won their bowl game and were ranked 14th in the final poll. The big 12 media days continue on Tuesday and Wednesday.