Bober Named Valley Player of the Year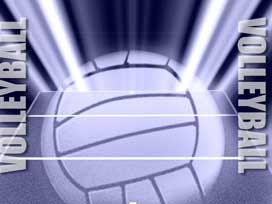 Posted by: Sports
The Creighton Volleyball team was honored today with the MVC Coach of the Year, Player of the Year and Defensive Player of the Year a pre-tournament awards banquet at the 2012 Missouri Valley Conference Volleyball Tournament in Springfield, Mo., earlier on Thursday.
In all, six women were honored, highlighted by the selection of Kirsten Bernthal Booth as the league's top coach, senior Megan Bober as the league's top player, and sophomore Kelli Browning as the league's top defensive player. The awards are determined by a vote of league coaches.
Booth is in her 10th season at the helm of the Bluejay program and is the first Creighton coach named MVC Coach of the Year since Howard Wallace shared the honor in 1997. Booth inherited a 3-23 program in 2003 and has steadily built Creighton into a league power, as her team picked up its first MVC title in program history and national ranking this year. Booth owns a career mark of 184-118 at Creighton, making her the winningest coach in program history.
Bober becomes Creighton's first volleyball player to ever earn MVC Player of the Year accolades. The setter from Murdock, Neb., is the nation's only player to average 9.50 assists, 1.50 kills and 0.90 blocks per set this season. She owns six triple-doubles, giving her 15 in her career, and is the team's active career leader in assists, digs, blocks, aces, kills and points. Bober was also named a First Team All-MVC selection for the third straight season, joining Korie Lebeda and Melissa Walsh as the only Bluejays to earn the honor three times.
Browning becomes the second player in Creighton history to be named MVC Defensive Player of the Year, joining Jessica Houts (2008). Browning leads the MVC in blocks per set (1.68), a figure that ranks her fourth nationally. The Waukesha, Wis., product is also second in the MVC in hitting percentage this season (.381). Browning owns five kill/block double-doubles – more than the rest of the MVC combined – and has set Creighton single-season records for total blocks and bock assists in a season. Browning was one of three Creighton women named First Team All-Valley, as well.
Melanie Jereb earned First Team All-MVC honors, making her the first freshman in school history to be earn such recognition. Jereb averaged 2.42 kills and 2.78 digs per set while also owning 0.65 blocks per set. The Cary, Ill., native has had 10 or more kills in all six matches vs. league powers Northern Iowa, Missouri State and Wichita State, and had seven double-doubles in league play this fall. Jereb also landed a spot on the MVC's All-Freshman Team.
Joining Jereb on the MVC's All-Freshman Team is Omaha native Kate Elman. Elman has played every match as Creighton's libero and already owns the school-record for digs by a freshman with 564. Elman owns 10 or more digs in all 29 matches to date, and also tops the Bluejays with 28 aces.
Leah McNary, an MVC All-Freshman Team selection a year ago, earned a place as a Second Team All-MVC pick as a sophomore. The Tarpon Springs, Fla., native leads Creighton with 322 kills and 2.93 kills per set. She owns three different matches with 20 or more kills, including a career-best 23 in CU's 3-2 win at Missouri State last Saturday.
As the tournament's top seed, Creighton has a quarterfinal round bye today. The Bluejays will face the winner of tonight's 5 pm quarterfinal between fourth-seeded Southern Illinois and fifth-seeded Illinois State on Friday at 5 pm. That match can be watched on ESPN3.com and valley-live.tv, and be heard locally on KOIL (1290 AM).
First Team
Emily Adney, Wichita State
Megan Bober, Creighton
Kelli Browning, Creighton
Krista DeGeest, UNI
Chelsey Feekin, Wichita State
Melanie Jereb, Creighton
Megan Lehman, UNI
Alysia Mayes, Southern Illinois
Jenny Menendez, Illinois State
Ashley Rosch, Illinois State
Laura Thole, Southern Illinois
Carly Thomas, Missouri State
Macy Ubben, UNI
Second Team
Andrea Beaty, Missouri State
Amy Braun, UNI
Elizabeth Field, Wichita State
LeighAnn Hranka, Illinois State
Kaitlin Jaeger, Missouri State
Leah McNary, Creighton
All-Freshman Team
Ashlyn Driskill, Wichita State
Cassie Effken, Drake
Kate Elman, Creighton
Melanie Jereb, Creighton
Ashley Rosch, Illinois State
Taylor Pippen, Southern Illinois
Coach of the Year: Kirsten Bernthal Booth, Creighton
Player of the Year: Megan Bober, Creighton
Defensive Player of the Year: Kelli Browning, Creighton
Libero of the Year: Jenny Menendez, Illinois State
Freshman of the Year: Ashley Rosch, Illinois State