Body found in Greenwood house fire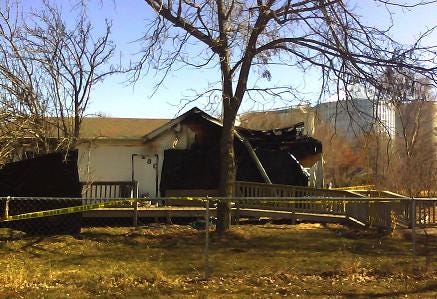 The Cass County Sheriff's office continue their investigation into a house fire where a man's body was found.
It happened Wednesday afternoon. The Cass County Sheriff says firefighters were called to the home at 230 Pleasant Street in Greenwood at around 3 p.m. Wednesday. Firefighters say they found a body while battling a fire that burned for nearly 45 minutes. The home belongs to Dennis Hergenrader. The sheriff is not confirming whether he was the person killed in the fire. However, neighbors tell us Hergenrader was confined to a wheelchair. Hergenrader's brother told us his family is in shock. His parents live next door to Dennis.
Neighbor Sherry Dea says she's never seen anything like this before. "Not in this magnitude. Not with that may people around and all this going on and knowing that you know the families that it affects."
Fire departments from Greenwood, Ashland, Waverly and Raymond worked together to battle the blaze. The Cass County Sheriff's Office and the State Fire Marshal will investigate the cause.
Firefighters put a tarp up around the home to be sensitive to family, friends and neighbors.
Greenwood Fire Chief Alan Grell says, "A lot of the investigation is going to take place out here in the open and we wanted the investigators to do that in privacy.