Bond Revoked for Chad Eggebraaten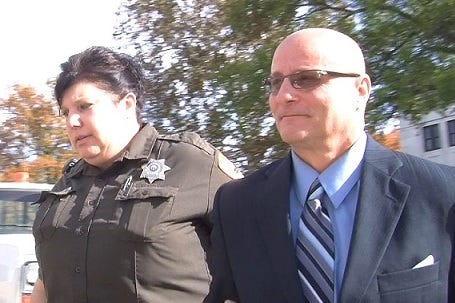 By: Cole Miller
cmiller@klkntv.com
It's a scandal that's consumed the city of Crete this month. An accused sex offender said to have volunteered on a school field trip. Chad Eggebraaten was in court Wednesday to find out whether he'd stay a free man, or end up back behind bars.
Chad Eggebraaten left the Saline County courthouse in handcuffs, back in custody on Wednesday after having his bond revoked. Refusing to comment, we caught up with one of his daughters.
"It is what it is, and they'll be embarrassed later," his daughter said.
The 52-year-old is accused of sexually assaulting a 14-year-old girl back in May of this year. In June, he was released on bond and ordered not to have any contact with anyone under the age of 15.
On October 2nd, Tim Conway, the principal of Crete High School, says Eggebraaten volunteered on a senior class field trip, consisting of 17 and 18-year-olds. We spoke to an adult friend of the alleged victim.
"I think he should have known better than to go there," the friend said.
After the trip was over, a biology teacher says Eggebraaten helped him carry some equipment back into his classroom. That's where a 14-year-old student testifies she was catching up on some homework.

Inside the courtroom, the defense argued that even though Mr. Eggebraaten was at the high school, he had no significant contact with any students under the age of 15. But, the judge thought otherwise, saying he was close enough, revoking his bond.
"I think she made the right decision. I think she looked at all the testimony and I think he's right where he should be," the alleged victim's friend said.
Referring to the crime, Eggebraaten's family says there's no way he would have done such a thing.
"It's not possible. He never would have done this…never. He raised 5 girls, one of them wasn't even his. He has 8 grand kids, one on the way that he won't even be able to see because of this girl. And it's just not fair…it's just not fair," Eggebraaten's daughter said.
Now, Eggebraaten is behind bars, being held on 10% of a $150,000 bond.
"We're just ready for it to go to trial and get it over with," his daughter said.

At this time, the Saline County Attorney's Office says they don't anticipate filing any charges against Mr. Conway, high school principal, for allowing Eggebraaten to take part in the field trip. He did serve a 2 day suspension from the school earlier this month.