Boy Scouts help recycle phonebooks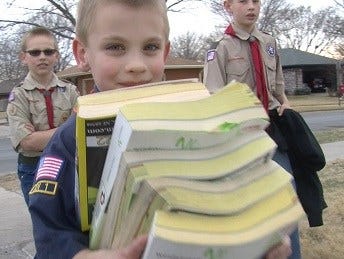 Posted By: Jenn Hatcher
jhatcher@klkntv.com
LINCOLN, NE (March 19, 2015) – The Berry Company, LLC, publisher of the new Windstream Yellow Pages, announced that residences and businesses in Lincoln will be receiving the new 2015 directory this month, which features local businesses throughout the Lincoln area. In conjunction with the new directory's release, Berry and The Boy Scouts launched the annual Think Yellow, Go Green program that encourages the Lincoln community to recycle their outdated telephone directories. The 2015 program runs through April 12.
For the past seven years, Berry has teamed up with Cornhusker Council Boy Scouts, Lincoln Parks and Recreation Department and Recycling Enterprises of Nebraska, Inc. to bring the month-long environmental awareness program to the Lincoln community.
The Cornhusker Council Boy Scouts will once again collect outdated telephone directories door-to-door in many Lincoln neighborhoods, which will help fulfill requirements toward qualification for the World Conservation Award.
Outdated directories, including directories from other publishers, can also be dropped off at select Lincoln parks and recreation locations: Air Park, Auld Recreation Center, Belmont Recreation Center, Easterday Recreation Center, F Street Recreation Center, Holmes Lake Park, Irving Recreation Center and the Outdoor Education Center / Cornhusker Council.


"Berry is excited to announce the 2015 directories are currently being distributed throughout Lincoln! During delivery, and throughout the entire year, it's important for us to spread awareness about recycling and the difference each of us can make in protecting the local environment. Berry is committed to protecting the local environments in the communities we serve," said Laura Cole, vice president of marketing for Berry. "We're very grateful for the support of our partners and the Lincoln community for helping to support our Think Yellow, Go Green initiatives over the past seven years."
For more information about the recycling program, including a list of drop-off locations, visit ThinkYellowGoGreen.com.
ABOUT THE BERRY COMPANY: The Berry Company, LLC, is a leading provider of local online, search, video and directory solutions. Its best in class sales organization helps hundreds of thousands of businesses in 50 states market their businesses to local consumers. Berry offers its clients the latest in social, mobile and content marketing via its direct relationship with LocalVox, an industry leading digital provider. Berry is also an authorized reseller of YP.comTM. The company is a GoogleTM Qualified Company, offering Google AdWords and other solutions to its clients.
Offering exceptional service, local market expertise and a strong portfolio of solutions, Berry makes local search simple. For more information, please visit http://www.TheBerryCompany.com.
To stop the delivery of any print directory, or reduce the number of directories you receive, please go to www.yellowpagesoptout.com.