Branched Oak Lake allowing fireworks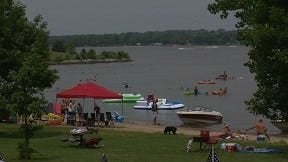 Posted By: Sarah Fili
sfili@klkntv.com
Branched Oak Lake is one of seven state recreation areas allowing people to light off fireworks this year. People at the lake say this only adds to their Fourth of July celebration plans.
The fourth is here and that means food, fun and this year at some state recreation areas, fireworks!
"And those are only in designated areas. We have an area in area one to shoot fireworks and then we have on Leibers point another area that they can shoot fireworks from 8:00 am to midnight," Tom Morrison, the park superintendent, said.
Branched Oak Lake draws several hundred people to camp, boat, hike and much more.
The holiday weekend gives people the opportunity this year to have the whole package.
"We can grill, we can make our food we can light off fireworks there's a playground there's water, there's boats, what more could you ask for?" Amanda Jo Baumert, from Lincoln, said.
Baumert says without the fireworks her family would have gone somewhere else.
"That made all the difference, because of course kids want to light off fireworks, but they also want to do all the fun stuff; so having it combined just made it so much of a better experience," Baumert said.
Some people say they would come to the area whether they were allowed to light off fireworks or not.
"We've been here when they have not allowed fireworks because its been so dry. Just having the fireworks allowed out here that's just an added bonus," Kerry Crosby, a camper, said.
Campers around the area say this weekend is about more than fireworks for them, adding they'll be back next year, fireworks or not.
"The lake, the water, just love being by the water. Playing in the water, grandkids coming out, dogs running back and forth in the water, it's awesome."
If you're looking to head out any of the state recreation areas be sure to pick up a park entry permit at the gate and be careful when lighting off fireworks.