Police investigate break-in at local cell phone repair store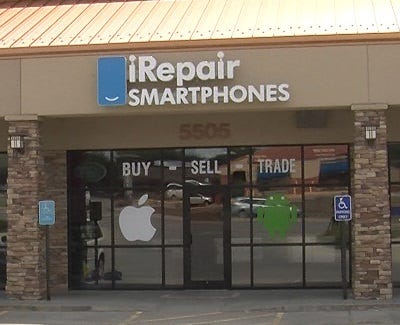 By: Lauren Fabrizi
lfabrizi@klkntv.com
Police are investigating a break-in at iRepair Smartphones this weekend that has left the cell phone repair store suffering from $15,000 in losses.
Police said the suspect or suspects threw a brick through the front glass door then stole about 40 phones and tablets from the display cases that were unlocked. They also took off with the entire cash register.
"We're very fortunate they didn't take any customer phones, repair wise," store owner Hyle Erwin said. "They weren't interested in anything that was broken or damaged, they were just looking for the stuff that was in the cases."
iRepair Smartphones, located near 55th and O Streets, has only been in Lincoln since January. Although Erwin said business has been pretty good so far, the company is going to have to start from scratch with inventory.
"We've only been open for six months so it affects us even more, because we don't have that cushion there," Erwin said.
Crime scene investigators are taking finger prints of the broken glass and inside the store. Erwin said it will take some time to start selling phones again, but luckily the store's main source of revenue comes from phone repairs, so it will be fully staffed and up and going for the start of the week.
"One day at a time," Erwin said. "We'll just try to regroup and see what we can do to get through it."
Police are still investigating. No suspects have been identified.