BREAKING: Abbott tennis court collapses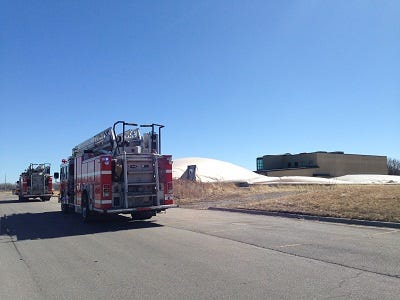 By: Camila Orti
corti@klkntv.com
An enclosed tennis court at the Abbott Sports Complex collapsed just before 1 p.m. Thursday.
"We heard a big pop, I thought it was maybe weights hitting really hard," employee Sam Hunzeker said.
It made for a stressful third day on the job for Hunzeker.
"This is extremely scary for me," she said.
The Nebraska Tennis Center, located in the Abbott Sports Complex north of 70th and Cornhusker Hwy, deflated like a balloon.
Hunzeker was at the front desk when she heard it happen. She says the 80,000-square-foot dome collapsed within seconds.
"I got down on my knees and I was like is there anyone in here, is anyone in here, yelled about two or three times, no response," Hunzeker said.
Rescue officials say their first priority was making sure nobody was trapped inside. Multiple engines and rescue vehicles responded to the call.
"These things are canvas but they're very heavy and if they do come down they would probably knock you down to the ground, maybe trap you," Lincoln Fire & Rescue Chief Derald Murrell said.
LFR confirmed the dome was empty, but it very well could've been full of athletes. The complex is home to the Husker tennis team. They normally practice around the time of the collapse.
"It's kind of a freak accident that this happened because otherwise they would've been in there during this whole thing," Hunzeker said.
Other employees mentioned it's not the first time the bubble has deflated. A similar incident happened a few years ago.