Update: Investigation continues into LPS fire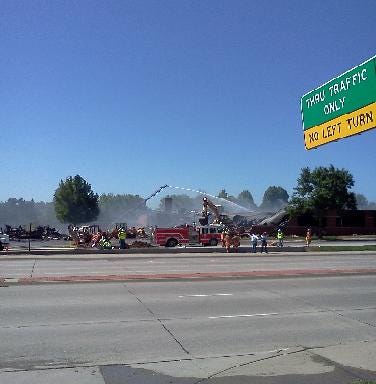 LPS Superintendent Dr. Steve Joel addressed staff members Wednesday morning.
Meanwhile, firefighters are still on the scene at the building Wednesday morning. Lincoln Fire Inspector Ken Hilger says the cause has not yet been determined. He says they are now working with the investigator from the school district's insurance company.
About 250 employees gathered Wednesday morning at Southeast High School still grieving the loss of their work home–but anxious to learn more about what's next.
As teachers, administrators and district employees filled the auditorium, Kirk Langer took to the podium. He's the Director of Technology and was the only person in the building when the blaze started. He's the one who called 911.
"As I exited out my office door I could smell smoke. I looked around the department and didn't see anything wrong.. as I proceeded where I would to exit the building I looked over my right shoulder I could see flames in the curriculum area," said Langer.
Even though firefighters got there in minutes the fire roared out of control leaving the building and its contents a total loss.
Superintendent Dr. Steve Joel announced the 250 employees will be divided into 2 groups- one moving to the city-owned Experian building, and 0the other to another location which is yet to be determined.
The building, as well as all office equipment, is covered under insurance. But, one 19-year veteran of the district says it's the personal items lost that are hard to let go of.
"There were gifts from around the world from families that had come here and found the strength of our community and support in their family being refuges or immigrants to this new community those gifts were special and they can't be replaced," says Deila Steiner.
Administrators said all employees are still getting paid and they hope to have everyone in a temporary office by next week.
Final grades for high schoolers were due this week, but LPS have been given an extension from state officials.
Dr. Joel said now is the time to look towards the future and their purpose which is serving the students of lincoln.
"Were united by a tragedy and a sense of purpose. The intent here was to draw light on what we just experienced and to what I think is an exciting and very productive future."
Dr. Joel said he hopes to use the temporary offices for about 12 to 18 months while they rebuild the district office from the ground up. They also have their crisis response team available and counselors on staff for any employees needing someone to talk to.