Breast cancer awareness license plates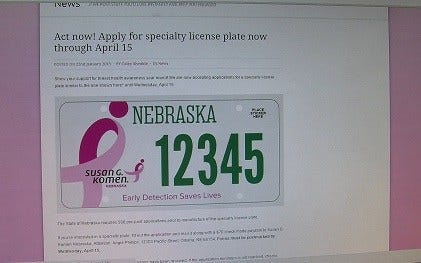 Posted By: Megan Conway
Nebraskans may have another specialty license plate to chose from soon. A Nebraska woman has the idea to have new plates in support of breast cancer.
Linda Gill, an 11 year breast cancer survivor, has partnered with the Susan G. Komen organization to make the idea a reality, but they need your support. If they don't get 500 applications by April 15th the plates won't be made. The plates will cost $70. Gill says it's not only to show pride, but also to make people more aware of how many people are affected by the disease.
"I think as a breast cancer survivor, it's just a great way for me personally to show awareness for breast cancer and maybe somebody out there will see the pink ribbon and go and have a mammogram," says Gill.
If you're interested in the plates, send in a completed application and check. Applications and where to send the checks can be found on the Susan G. Komen website. If they don't receive enough applications, the checks will be destroyed.