Brett Edwards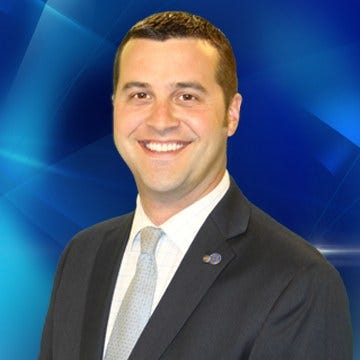 Like most youngsters, Brett Edwards spent a lot of time in the backyard of his home town of Vinton, Iowa playing sports. In Brett's case, he would also add play-by-play commentary, as he dreamed of hitting the winning homer or tossing the winning touchdown.
His passion for sports lead him to Wayne State College, in Wayne, Nebraska, where he played quarterback for the Wildcats, and graduated with a bachelor's degree in Sports Management. After graduation, he tried coaching and he soon realized it wasn't for him and that's when he turned his attention to sports broadcasting. Upon graduating from Ohio Center for Broadcasting in Denver, Colorado, Brett became the weekend sports anchor for KNOP in North Platte, Nebraska. He then moved to Rock Island, Illinois as the weekend sports anchor for WHBF-TV in Rock Island, Illinois.
Brett became the Sports Director of Channel 8 Eyewitness News in May of 2010. "It's a thrill to be able to work in Lincoln, covering the Huskers and great high school sports…" Brett also says. "Getting to know the athletes, coaches and fans is going to be fun…Lincoln is a sports crazy city."
In his spare time you will find Brett on the golf course or "watching and attending any sporting event that I can." You can see Brett Edwards' sports reports, Monday through Friday on the Channel 8 Eyewitness News at 5, 6 and 10.
bedwards@klkntv.com
Twitter-brettedklkn