Bruning Releases Crime Package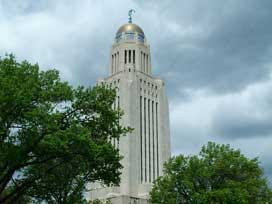 State lawmakers are set to begin their 60–day legislative session Wednesday.
Tuesday Attorney General Jon Bruning announced his crime package for senators to consider, which includes 4 bills. One of them deals with children's rights.
The bill would allow victims of child pornography to sue their exploiters.
Every year we get together and decide what we think is needed to make Nebraska a safer state and this is the 2010 legislative package and were hoping the legislature will look favorably on it," Bruning said.
Bruning would also like to see a law passed aimed at getting tougher on pyramid schemes.
Tuesday Attorney General Jon Bruning teamed up with a state senator to unveil a proposal they say will tighten the laws when it comes to gaming machines around the state. Included in Attorney General Jon Bruning's legislative package is a bill that would crack down on illegal gambling devices in Nebraska.
Bruning said there is some new video games sweeping the state where winning is determined by your *chance and not *skill, making them illegal under state law. One game that has been in question is called bank shot.
Critter's here in Lincoln has one. Senator Tony Fulton is backing the bill. He says this was an obvious step to uphold the views Nebraskans have already made clear when they voted to oppose gambling in Nebraska.
"This is a new technology which it seems might be utilized as a back door way to expand gambling in Nebraska and so before we even get to that bridge lots make the course a detour so Nebraskans don't have to be faced with the question yet again," Sen. Tony Fulton said.
The bill would allow recreational games, like those at family fun centers to remain legal as long as they don't pay out prizes valued at more than $10 dollars per play or give out cash prizes, alcohol or tobacco.
Senator Fulton and Attorney General Bruning said the goal with tightening gambling legislation is to make it tougher to offer games at establishments where chance instead of skill is involved.