Bryan Health host "Stop the Bleed" training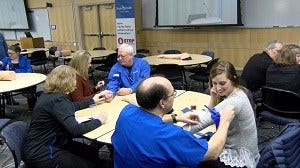 Posted by: Marlenia Thornton
mthornton@klkntv.com
Dale Johnson knows first hand the benefits of a tourniquet.
"I learned today just how just how close to dying I actually was," KFOR News Director Dale Johnson said.
The radio personality was involved in a serious motorcycle crash last March near 27th and Stockwell.
He was hit by car and thrown 20 feet from his bike.
Thanks to some quick thinking by a police officer, a tourniquet was applied to control his bleeding before emergency crews arrived.
Research said a person can bleed to death within three minutes.
Johnson shared his story to the Bryan medical staff Friday.
"Every day, I get up and I'm thankful that I lost a leg and nothing more," Johnson said.
The hospital hosted "Stop the Bleed" training for its staff for the first time.
It's apart of a national campaign to give people the tools and skills necessary to control severe bleeding.
Participants took turns using these tourniquets.
They practiced on each other and a few even tried to put it on themselves.
Staff members said this is practical for every day emergencies.
"Those are at the scene will be able to apply these really quickly to save at limb and potentially save a life," Bryan Health Nurse Stacy Stewart said.
Bryan Health wants to expand the class throughout the community.
It wants to bring it to various organizations to enable more people to come to the rescue.
"Anybody can come upon a crash such as Dale's and you never know when you're going to be that person that needs to be the one who save a life," Bryan Trauma and Emergency Preparedness Manager Heather Talbott said.
If you're interested, contact Bryan Health.