Bryan LGH Wellness Program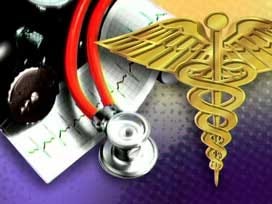 Doctors around lincoln are teaming up this april to spread awareness for men and women's health.
Bryan LGH is hosting a wellness program April 4th to improve your health, hobbies, and relationships.
Whether it is exercise, eating right, or just trying to get fit for summer time, Doctor Rob Rhoades says doing it as a couple can help your chances.
"Whether you're a newlywed in your 20s or 30s, or you've been together for 25 or 30 years married, we know that the important part of health care is the team approach, whether it's the doctor patient relationship or the husband and wife, or the boyfriend girlfriend relationship, that's only going to help get someone into the doctor when they've been having some symptoms they shouldn't ignore."
Gynecologist sarah cada (ch-ah-da) says this won't be your ordinary wellness program,and even if you're single,everyone can enjoy the health sessions.
"We're going to have breakout sessions on improving your golf swing, were going to do some yoga, and then healthy eating."
Another special guest will be Husker head volleyball coach John Cook.
If you wuold like to register: $15 pre-registration is required and the registration deadline is Friday, March 27. For a registration form please call 402-481-8886.