Businesses evacuated after gas meter hit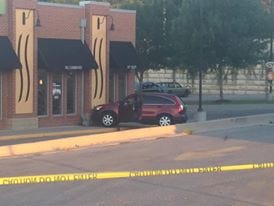 Posted By: Channel 8 Eyewitness News
8@klkntv.com
UPDATE:
The intersection of 48th and O has been re-opened after a gas leak shut it down. Black Hills Energy were able to crimp the gas line and halt the leak. Businesses will remain closed through the night. Officials say repairs are set to begin on Saturday.
No one was injured and there is no word on damage estimates at this time.
---
The businesses of Walgreens and Braeda near 48th and O streets are being evacuated.
Lincoln Fire and Rescue say a car hit a gas meter in the parking lot of Braeda, breaking the pipe and causing a leak. Black Hills Energy are on their way to begin digging to shut the gas off. Parts of eastbound O street are shut down and they say it could be a couple hours before it's reopened.
The driver of the vehicle that hit the meter left the scene. Police are looking for the person or persons.
We have a reporter on the scene. We'll bring you the latest details when they're available.