Calling all snow angels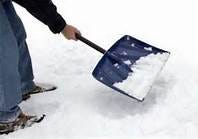 By: Dan Messineo
dmessineo@klkntv.com
The biggest storm of the season is about to dump snow on the city. The Lincoln Public Works and Utilities Department said some residents need help clearing their sidewalks and driveways. A program here in Lincoln does just that, but they need more volunteers.
The program is called Snow Angels. It was started by the United Methodist Church and puts volunteers in touch with people unable to shovel all that heavy snow. The City Public Works and Utilities Department needs more angels to help shovel this week. You can sign up to be an angel by entering your contact information on the City of Lincoln web site.
Angel or not, it's important to be careful out there. A study by the Ohio State University College of Medicine shows thousands of Americans end up in emergency rooms with shoveling-related problems. Slips and falls are the most common injuries and cardiac issues account for all the deaths.
Dr. William Abraham, Director of the Division of Cardiovascular Medicine at Ohio State University urges caution when shoveling snow. "People, especially those at risk for coronary heart disease, should avoid heavy exertion in cold weather conditions," Dr. Abraham said.
If you would like to volunteer to be a Snow Angel, you can click on contact form to fill out a contact information form.
If you need an angel, you can click on snow angel map for a map that shows a snow angel by your home or you can call 402-441-7644 for the Snow Center. Officials recommend waiting until after the snow fall to call for assistance.