Campbell Elementary students take on smoothie challenge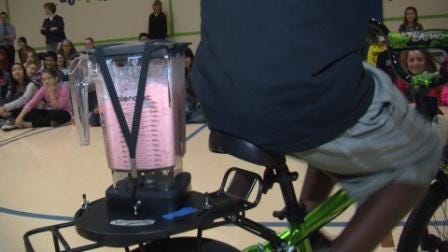 By: Lauren Fabrizi
lfabrizi@klkntv.com
Students at Campbell Elementary were busy whipping up smoothies Tuesday in an unconventional way– by powering a blender that's attached to a bicycle.
"When you first got started it was kind of hard to pedal because a lot of weight on the back," student Christian Belt said.
"I got that raspberry purplish one," 5th grader Matthew Dunaski said, referring to his smoothie. "It was really good!"
The event was part of a special nutrition lesson.
"That kind of highlights to the students the importance of physical activity in combination with nutrition and being healthy," Lincoln Public Schools nutrition specialist Jessie Coffey said.
Once a month, Campbell students get a more hands–on approach to learning. Tuesday's approach was a smoothie challenge. Students cheered for ingredients they wanted. After a sip, many were surprised a healthy treat tasted good.
"If you eat healthy, it makes your body get energy," Dunaski said.
"When you go to the doctor's office, you need to have all the nutrients you need," Kennedi Leitschuk, another 5th grader, added.
For those with a sweet tooth, syrup and sugar spoonfuls hit the spot, of course, in moderation.
"Especially when you can put it in a smoothie with other healthy stuff!" Dunaski said excitedly.
"It's something healthy everyone can like," Coffey said.
The bike was funded through a grant. It'll be used for special projects throughout the LPS district.