Stolen tortoise returned to Lincoln Children's Zoo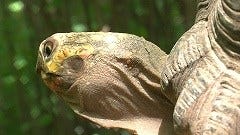 By: Brittany Paris
bparis@klkntv.com
It's a happy ending for a local tortoise. Captain Hook was stolen from her home at the Lincoln Children's Zoo back in March of 2013. At the time, she was inside a secured building.
"Which was very confusing to the staff. The staff looked high and low. I mean, turtles don't move quickly, they don't jump quickly and they don't scale walls quickly," John Chapo, Lincoln Children's Zoo Director, said.
But there was no sign of the tortoise, until Wednesday.
The zoo received an anonymous call that a Lincoln woman had Captain Hook. She said her boyfriend had given the tortoise to her daughter as a gift.
Police arrested 25-year-old Michael Sullivan for burglary.
"The tortoise was taken back to the Lincoln Children's Zoo and was positively identified as Captain Hook," Sgt. Jeri Roeder, Lincoln Police Department, said.
But you won't see her in the Red Footed Tortoise exhibit just yet.
Chapo says Captain Hook is over 25 years old. She's from the rainforest of South America and needs special care regarding humidity, heat and diet.
While she was absent from the zoo, Captain Hook lost 10 percent of her weight.
She will be quarantined for at least a month so she can gain weight and zoo officials can make sure she doesn't have diseases before she will be put back in the exhibit.
But Chapo is confident Captain Hook will rejoin the zoo's three other Red Footed Tortoises soon.
"There was a palpable sigh of relief, but again we gotta make certain that she's good and healthy," Chapo said.
He says Red Footed Tortoises can live past 75 years old and are worth around $400.