UPDATE: Car collision sends car into house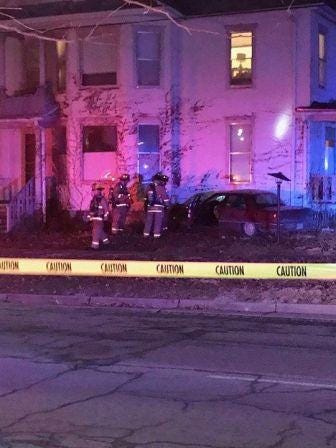 Posted by: Fahima Paghmani
fpaghmani@klkntv.com
UPDATE: A woman has been charged in an overnight crash in Lincoln.

Police say Michaella Swift was cited for DUI and negligent driving. The accident happened near 16th and F streets around 10:30 p.m. Thursday.
Officers say Swift ran a stop sign, crashed into another vehicle, hit a house and a gas line. No one in the home was hurt and there is only minor damage to the house.
"There's some minor property damage to the foundation, but the occupants of the house will be able to stay there tonight," says Battalion Chief Jeremy Gegg, Lincoln Fire and Rescue.
Employees with Black Hills Energy fixed the gas leak. Two people were taken to the hospital with minor injuries.
__________________________________________________________________________________________
Lincoln Fire and Rescue were called around 10:30 p.m. near 16th and F, after a car crashed into a house.
LFR said the crash caused one of the cars to hit a home and started a gas leak.
The house has minor damages; the family who lives inside the home was allowed to enter their house after Black Hills approved it.
Two people were transported to the hospital with non- life threatening injuries.
The investigation of the crash is still underway.