Carbon monoxide calls on the rise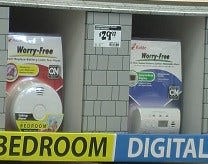 Posted By: Bill Schammert
bschammert@klkntv.com
Killing more than 400 Americans every year, carbon monoxide calls are on the rise.
The Nebraska Poison Center says reports are up 24-percent this year. Lincoln Fire and Rescue says that can be for a number of reasons.
"Your furnace isn't working properly, your water heater or your fireplace," Asst. Chief Pat Borer said. "So those things need to be checked on a regular basis."
Carbon monoxide is a byproduct that happens whenever any sort of fuel is burned. Back in November, 20 people had to be evacuated from Lincoln Manor because of a faulty boiler.
And as temperatures drop, those calls only go up.
"It's more prevalent this time of year because people have their homes closed. And, there's a greater likelihood that they have more than one appliance that's burning gas," Borer said.
CO poisoning hospitalizes at least 4,000 Americans every year. To keep yourself out of the emergency room, it's best to have a detector in your home.
You can find one at just about any hardware store for around $20.
Some symptoms of carbon monoxide poisoning include headaches, dizziness and nausea. LFR says don't ever be afraid to call to have them come out if you're worried about something..
They say, that's what they're there for.