Caretaker sentenced for death of Omaha 4-year-old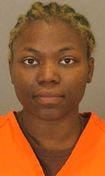 Posted By: Channel 8 Eyewitness News
8@klkntv.com
OMAHA, Neb. (AP) The caretaker for an Omaha 4-year-old whose frigid, plastic-wrapped body was hidden under basement stairs has been sentenced to prison.
On Wednesday Douglas County District Judge Greg Schatz gave Chelsey Cook 20 to 25 years. She'd been found guilty in June of intentional child abuse resulting in the death of Alicia Morrow.
Prosecutors have said Cook knew Alicia needed medical attention but did not call 911 because there was a warrant out for her arrest. An autopsy showed the girl died of hypothermia at Cook's home, where her body was found Jan. 5. Cook didn't put more clothes on Alicia to warm her in the house, which officials have said was frigid.
Alicia's mother, Lakisha Morrow, has said Cook offered to care for Alicia when Morrow was homeless.