Caught on Camera: a woman steals a package from a west Lincoln Home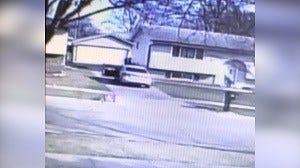 A woman pulling into a driveway and snatching a package from a west Lincoln home is caught on camera.
It happened this past Sunday to a local couple Sylvia and Dannee.
Sylvia was at home feeding their daughter Ariya when she was alerted by their dogs barking.
That's when she peeked out the window and noticed this car getting away with their belongings.
"At first I couldn't believe it. I was like 'oh my gosh' she's stealing from us and right away I turned around and grabbed my phone and started taking pictures," Sylvia said.
The Colemans live across the street and installed cameras about a year ago on their home.
Dannee asked their neighbors if the act was recorded.
It was and the Colemans were equally surprised.
"We're just in shock that it that it happened in broad daylight in our neighborhood. It's a pretty quiet neighborhood we haven't really had any thefts like that. It's pretty bold," Heidi and Martin Coleman said.
Lincoln Police said officers usually get a few reports of package thefts each month throughout the year, but that number doubles in January and February.
The photos and surveillance video are on Facebook.
The post has been shared by hundreds and viewed close to 80–thousand times.
"We hope she gets caught. The value of the stuff wasn't that much. It was just. It's just the idea that someone would do something like that. It's like invading our property and privacy," Dannee said.
The package contained Disney themed Sippy cups for their daughter for an upcoming trip, a water bottle and an iPhone cover.
They said Amazon was very understanding and replace the items.