Ch. 8 Eyewitness News' Sister-Station to Host ABC Presidential Debate in Des Moines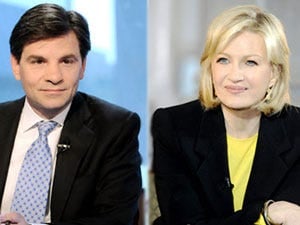 ABC News to Co-Sponsor Republican Presidential Candidate Debate with ABC5/WOI-DT and the Iowa Republican Party.
ABC News will co-sponsor a Republican presidential caucus debate in Iowa with KLKN-TV's sister station ABC5/WOI-DT and the Iowa State Republican Party on the weekend of December 10.
This debate, to be moderated by ABC News anchors Diane Sawyer and George Stephanopoulos, will be held at a critical moment in the Republican nomination process – just weeks ahead of the state's first-in-the-nation caucuses. The debate will air locally on ABC5/WOI-DT, nationally on the ABC Television Network, and will be live-streamed on ABCNews.com.
The exact date and location of the debate will be announced at a later date. Last December, ABC News announced that it would host a Republican presidential primary debate in New Hampshire between the Iowa caucuses and New Hampshire's 2012 primary. Iowa and New Hampshire have long been make-or-break contests for candidates and ABC News will be putting the crucial questions of the day to the contenders in both key states.
About ABC5/WOI-DT: ABC5 News, serving Central Iowa from the state capitol city of Des Moines, has a long tradition of producing robust coverage of the Iowa caucuses and related events such as the Iowa Straw Poll. Its partnership with ABC News in recent election cycles has provided viewers the most comprehensive and incisive political coverage available. Sponsoring, hosting, and/or broadcasting political debates along with exclusive one-on-one candidate interviews are an integral part of ABC5's news and public service commitment.
ABC5 News coverage is also available at www.myabc5.com, on mobile platforms at m.myabc5.com and as a free iPhone/iPad application. About ABC News ABC News is responsible for all of the ABC Television Network's news programming on a variety of platforms: television, radio and the Internet. Its flagship program is "World News with Diane Sawyer" with other programs including "Good Morning America," "Nightline," "Primetime," "20/20," and the Sunday morning political affairs program "This Week with Christiane Amanpour." With an average television and radio audience of 180 million people in a given month, ABC News surpasses the competition. More than 2,400 affiliate stations broadcast ABC News Radio's global news coverage. In addition, ABC News NOW is a 24-hour news and information network currently available to 44 million users across cable, broadband, and mobile platforms.
NewsOne, the affiliate news service of ABC News, provides live and packaged news, sports, and weather reports, as well as footage of news events, to 200 ABC affiliates and more than 30 domestic and international clients.