Channel 8 honors area's highest achieving students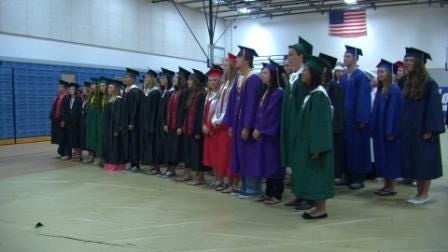 By: Lauren Fabrizi
lfabrizi@klkntv.com
More than 100 top–achieving students in the area gathered at Southeast Community College Thursday for Channel 8 Eyewitness News' 11th annual Best of the Class event.
"It's really cool to see all of these talented students work their way the same way I did," Justin Larsen of Crete High School said. "It's just an honor."
Students had a chance to chat about where they're headed next, while posing for a group picture all suited up in their caps and gowns.
One of those students was Charlene Skillett of Crete High School. The valedictorian is on her way to Doane College in the fall,
and has a very special reason why she hopes to be a doctor some day. Both her mother and grandmother had thyroid cancer.
"I want to specialize in endocrinology," Skillet said. "I want to have my own practice one day and help people with thyroid cancer and diabetes."
Akshay Rajagopal and Tianye Chen also have big plans ahead that involve venturing away from the cornhusker state.
The Lincoln East valedictorian and salutatorian will attend Stanford and MIT, and plan to major in different types of engineering.
"It'll be nice going to that school, great weather," Rajagopal said. "I think I'll have a lot of fun there."
"Pretty excited," Chen said. "It's going to be a lot bigger city, so that's a nice change."
Raising Canes and Supersaver provided lunch. Each of the students was videotaped and will be appearing on KLKN-TV for the next several weeks.