Charlie Rogers fails to show up for jail time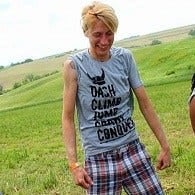 Posted By: Jenn Schanz
jschanz@klkntv.com
36–year–old Charlie Rogers left many wondering why back in July of 2012.
That's when police say she pretended to be a victim of a brutal hate crime. They say she claimed she was attacked by masked men who carved anti–gay slurs into her skin.
Rogers, who's a lesbian, initially received an outpouring of support from the community.
She maintained her version of the story.
"I won't say I did it then, I won't say I did it now. I did not do this," she said in an online video post in 2013.
But police called the whole thing a hoax.
She pleaded No Contest to False Information in the spring of 2013.
She served a week in jail, but after recently failing to complete her probation, she was sentenced to another 90 days.
I spoke to the County's Chief Probation Officer, he wouldn't go into details on why Rogers failed to complete her probation.
She was expected in jail Thursday morning, but officials say she didn't show up.
I called Rogers, who's phone was disconnected, and reached out to her attorney, Brett McArthur.
McArthur failed to get back to me.
Chief Deputy County Attorney Pat Condon says a motion was filed late Friday afternoon to revoke Rogers' probation.
A hearing for that is set for Jan. 23rd.
If a judge agrees Rogers' has violated her probation, she could face a year in jail or $1,000 fine.